In continued celebration of the release of Post & Beam, I'm posting the score for Born in the Desert.
Download the score as a pdf file: born_in_the_desert.pdf
Download the score as a LilyPond .ly file: born_in_the_desert.ly
Each month I'll post another score for a piece on the album, until I've shared them all. The scores will be available as pdf files and as Lilypond files.
The scores are for acoustic, "unplugged" versions of the songs on the album. All the electronic gewgaws and interactive foofaraw have been left out; they wouldn't make much sense unless you happen to have a sensor-encrusted banjo plugged into an arduino and a laptop. I think these songs are perfectly playable without the electronics, anyway. In fact, most of them existed that way just fine for 100+ years before I got my mitts on them.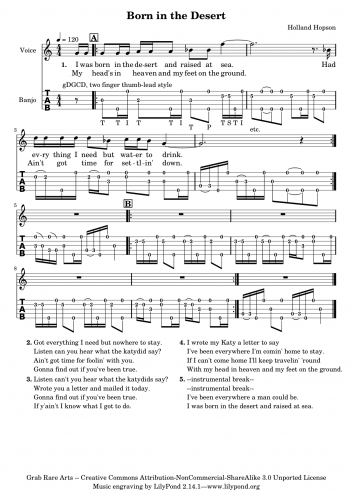 Notes on Born in the Desert:
I think I got the four note motive that spans a minor 7th from a Bob Dylan tune.
I wrote most the lyrics while riding my bicycle.
I later tightened up the lyrics and squeezed them into a formal scheme where the second line of each pair of couplets becomes the first line of the following pair of couplets. (I'm sure some sainted English major can tell me the specific poetic form that I took the trouble to reinvent.)
The banjo is played using a two finger, thumb-lead style. Thanks to Vic Rawlings for teaching me the mechanics of this picking style.
There's an extra bar added to the end of each section. The Carter Family recordings have these kind of extensions sprinkled throughout, but it's just as likely I picked this up from Olivier Messiaen or Igor Stravinsky or Philip Glass or Joni Mitchell–all of whom I heard long before the Carter Family.
I posted an earlier version of this score last summer. This one is the more correctest.