Tag Archives:
Jonathan Chen
The Albany Times Union has a preview of Sunday's Albany Sonic Arts Collective concert featuring Lucre and Jonathan Chen.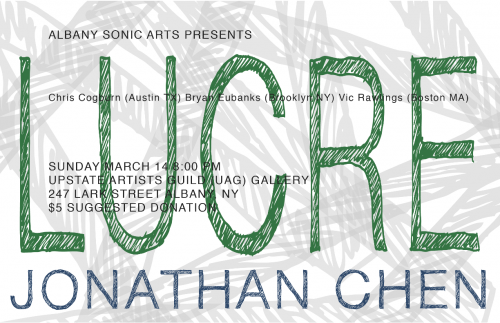 Albany Sonic Arts Presents Lucre and Jonathan Chen
Sunday March 14 @ 8pm
Upstate Artists Guild
247 Lark St.
Albany NY
$5 suggested donation
Lucre is the improvising trio of Chris Cogburn , Bryan Eubanks, and Vic Rawlings who perform with exposed circuits, extended ampli?ed cello, low-? modular synthesis, and stripped down percussion.
Jonathan Chen will perform a solo set of music for electronics, viola and violin.
Chris is a good friend from my Austin days and does great work with the No Idea Festival. I'm very excited he'll be playing in Albany. And I'm equally excited that local artist Jonathan Chen is finally getting a chance to present his work.
More information about the artists after the break…