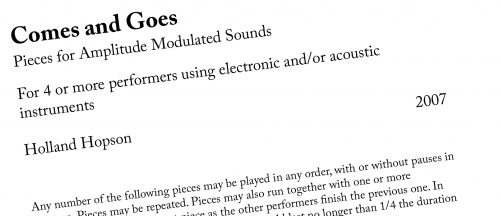 On Thursday I'll be performing my work Comes and Goes with Andrew Dewar, Wendy Richman and Geni Skendo during the opening concert of the third Birmingham New Music Festival. Andrew and I will perform with electronics (modular synth and Max, respectively) while Wendy plays viola and Geni performs on various flutes. We worked up a wonderful blend of sounds during rehearsal last weekend; I think this is going to be a special performance.
Comes and Goes was written for Gates Ensemble and first performed in Austin, TX in 2007. My memory of the performance is a bit hazy. On the day of the show I was packing for a move from Austin to Albany, NY and gashed open the bottom of my foot. After stitches and pain meds, I somehow joined the other musicians on stage to perform with my foot elevated on a nearby chair. The piece is for four or more musicians performing on electronic and/or acoustic instruments. Each movement explores a specific set of sounds  derived from the technique of amplitude modulation. Download the score for Comes and Goes.
I'll also be performing on banjo and electronics with Geni Skendo for two of his compositions.
Thursday 9/22 7:30pm
Birmingham New Music Festival
UAB Hulsey Recital Hall
950 13th Street South
Birmingham, AL 35294
Free