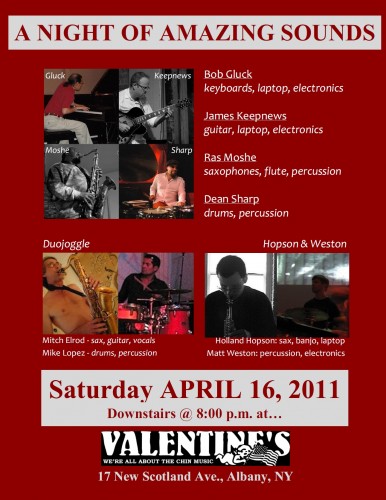 Saturday, April 16, 8 pm
A Night of Amazing Sounds
Bob Gluck/James Keepnews/Ras Moshe/Dean Sharp
Duojoggle (Mitch Elrod/Mike Lopez)
Holland Hopson and Matt Weston
Valentine's
17 New Scotland Ave
Here's a great way to spend Saturday night! This will be the first time Matt Weston and I have performed as a duo, and I'm really excited about playing with such an amazing drummer. Every time we've rehearsed it comes out a little differently, so it should be a fun surprise to hear what happens at Valentine's.
Here's what the Chronogram says about the show:
"A Night of Amazing Sounds"
April 16. In an out-of-the-ordinary move, the normally straight punk-oriented Valentine's presents "A Night of Amazing Sounds," a free jazz/experimental electronics program with the quartet of keyboardist Bob Gluck, guitarist James Keepnews, saxophonist Ras Moshe, and drummer Dean Sharp; Duojoggle, featuring saxophonist-guitarist Mitch Elrod and drummer Mike Lopez; and Hopson-Weston, starring Holland Hopson on sax and laptop and Matt Weston on percussion and electronics. Here's hoping the venue has similar bills in store. (The Charlie Watts Riots and the Last Conspirators plot destruction April 1; the Downtown Fiction hits April 27.) 8pm. Call for ticket prices. Albany. (518) 432-6572; www.valentinesalbany.com.