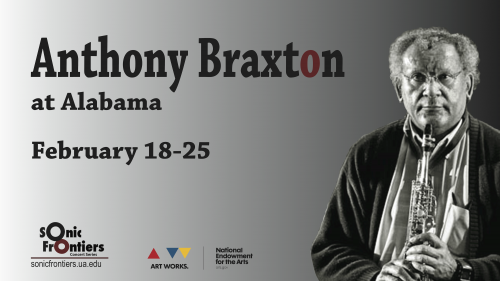 I'm so excited to be part of Anthony Braxton's week-long residency at the University of Alabama kicking off tonight with a free solo saxophone concert at the Bama Theatre and running through February 25th. Sonic Frontiers is presenting these events; visit their site for the full schedule of events. All events are free.
I'll be performing on Friday's concert as part of the Falling River Music Septet along with Anthony Braxton (reeds), Taylor Ho Bynum (brass), Andrew Raffo Dewar (soprano saxophone), Tim Feeney (percussion), Mary Halvorson (guitar) and Ingrid Laubrock (reeds). This is such an amazing lineup, and it's just one of many throughout the 6-concert residency.
In preparation for this residency I've been listening to many Braxton recordings, starting with For Alto and moving through the entire Arista Records box set. I thought I had a grasp of Braxton's work having heard selections here and there (likely beginning with the Muhal Richard Abrams duo on the Smithsonian Jazz compilation). But I was completely unprepared for both the amount of musical material and the incredible range represented: from ragtime and marching band music to post-bop solos and Sun Ra-like grooves, from the density of his music for four orchestras to the spare, spacey explorations on For Trio. And that barely gets us through the 1970s! I can't think of another composer with such stylistic richness and diversity.