The Albany Sonic Arts Collective has announced their latest show: Saturday March 22, at the UAG Gallery. The lineup features
C. SPENCER YEH (solo violin, electronics)
BRYAN EUBANKS (saxophone) & ANDREW LAFKAS (bass)
MEG CLIXBY (bass, electronics)
The Upstate Artists Guild 247 Lark St.
Albany, NY: Saturday March 22, 2008
Doors at 7:30 pm: show at 8:00
$5 suggested donation at the door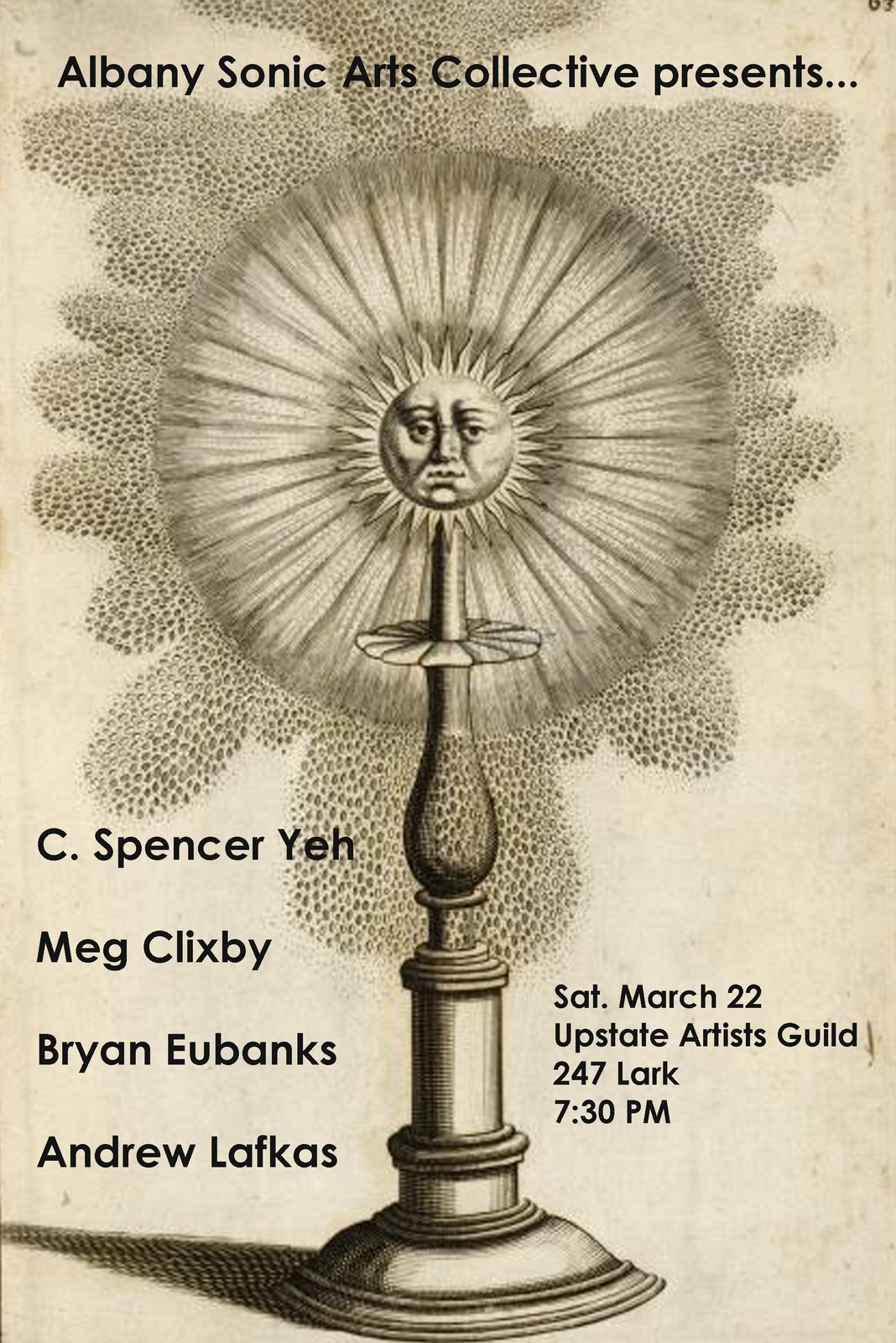 More on the musicians:
C. Spencer Yeh was born in Taipei, Taiwan 1975, moved to the US in 1980; studied radio/television/film at Northwestern University, and is now based out of Cincinnati, Ohio. Yeh is active both as a solo and ensemble artist, as well as with his primary 'organized sound' project, Burning Star Core. As an improviser, Yeh has focused on developing a personal vocabulary using violin, voice, and electronics. As a sound organizer/composer, Yeh works with all aspects available surrounding a work, aurally and physically, as elements key to the cumulative experience. He is concerned not only with the sensual aspects of sound, but the gestural qualities as well. Yeh has performed alongside and collaborated with a deep and ever-growing list of artists and groups including Tony Conrad, Evan Parker, Thurston Moore, The New Humans with Vito Acconci, Paul Flaherty and Chris Corsano, John Wiese, Aaron Dilloway, John Olson and the Graveyards, Amy Granat, Jutta Koether, LaDonna Smith, Carlos Giffoni, Okkyung Lee, Atsuhiro Ito, Lasse Marhaug, Audrey Chen, Nate Wooley, JP Feliciano, Rafael Toral, Rhys Chatham's Guitar Trio All-Stars, Damo Suzuki's Network, and many others, and has performed across the U.S.A. and Europe in a variety of settings and festivals. Most recently he participated in the 24 Hour Drone People project in Stockholm (and the abbreviated 5 hour version in Amsterdam), alongside artists such as CM Von Hauswolff, Mika Vainio, Joachim Nordwall, BJ Nilsen, Hildur Gudnadottir, Hild Sofie Tafjord, and Mark Wastell. He has also had visual art and video works presented internationally. http://www.myspace.com/cspenceryeh
Bryan Eubanks is a musician and sound artist originally from the Pacific Northwest of the US, and since 2005 he has been living and working in Brooklyn, NY. He works in live electronic settings with an instrument that integrates open-circuits and samplers, as well as working in acoustic settings with the Soprano Saxophone. His primary focus is on collaborative improvisation and solo musical projects, and he consistently works with Andrew Lafkas, Vic Rawlings, and an acoustic chamber ensemble. His work with sound installation is exploring sound as a function of architecture, cognition, and temporality. He has presented his music across the US, Europe, Japan, and Korea and at festivals such as LineSpaceLine in Los Angeles, Erstquake in NYC, No Idea in Austin, Texas, Relay in Seoul, and recently exhibited sound installations at the Portland Art Center and Diapason Gallery for Sound (in collaboration with Andrew Lafkas). He has released recordings on Little Enjoyer, Gameboy, Last Visible Dog, Jyrk, Experimental Musical Research, and Rasbliutto Recordings, a label and online library of sound he founded in 2002. http://www.rasbliutto.net/bryaneubanks
Meg Clixby grew up in Maine and then quitted to Western Mass for eight years. She took a hiatus during that time to live in Brighton, UK where she began to play bass guitar and participated in The Polly Shang Kuan Band. This collaboration continued once back stateside for a NE US mini-tour after which Meg began to play with her WMass brethren in projects such as Duck and Bottoms Up. After moving to Brooklyn, she continued to play with friends indoors but now lives in the woods and jams with herself. Bass, pedals, tape.