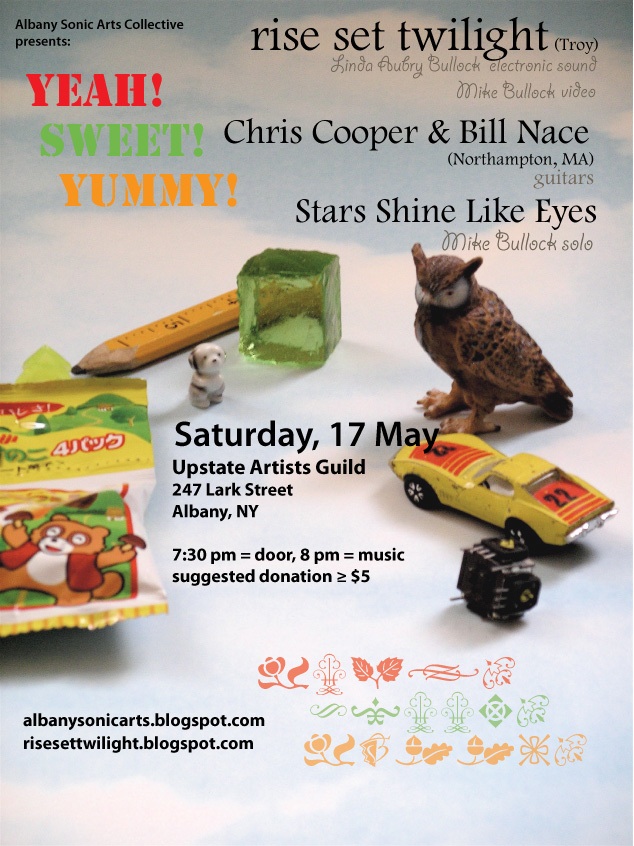 The Albany Sonics Arts Collective (ASAC) presents YEAH! SWEET! YUMMY! featuring
Saturday 17 May, 2008
Upstate Artists Guild
247 Lark St. Albany, NY
Doors at 7:30 pm: show at 8:00
$5 suggested donation at the door

rise set twilight (Troy, NY)
Linda Aubry Bullock, electronics
Mike Bullock, video
rise set twilight (Troy, NY) – warm and shivery all at the same time.  Sweet loops of sound and light take you back to when your senses were new.
Cooper & Nace (Northampton, MA)
Chris Cooper (Fat Worm of Error, The BSC, ex-Deerhoof, ex-Caroliner) , guitar
Bill Nace (Vampire Belt), guitar
With friends like these, who needs Rock n' Roll?  Chris and Bill are two guitarists who will make you fall in love, or at least in like, all over again.
Stars Shine Like Eyes
Like those times when you are reading in bed and realize you've read the first line of that paragraph over and over again.  You can't go on, you'll go on.