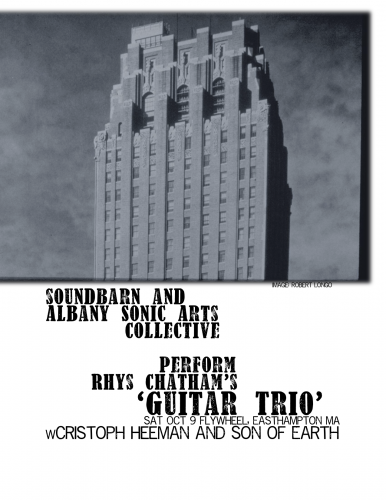 Easthampton! Are you ready to rock?!
Saturday October 9 @ 8pm
Flywheel
Old Town Hall
43 Main Street (Rt. 10)
Easthampton MA
I can't wait for Saturday night to play at Flywheel with SoundBarn and members of the Albany Sonic Arts Collective. We'll play Rhys Chatham's Guitar Trio and premiere my new work, Swallowtail. The ensemble includes the pummeling Matt Weston on drums, Eric Hardiman on electric bass, and six (!) electric guitars played by Matthew Ernst, Tara Fracalossi, Ray Hare, Thomas Lail, Patrick Wecklar, and myself).
If you'd like to follow along, you can bring your own copy of the Swallowtail score. The piece is the next installment of my glissando music series–in the tradition of glissando masters James Tenney, Alvin Lucier, Iannis Xenakis, Lois V Vierk.
And at the risk of sounding like a ginsu knife commercial…But wait, there's more…
Surrealist noise legend Christoph Heeman will perform, as will Easthampton locals Son of Earth.
Bring hearing protection.