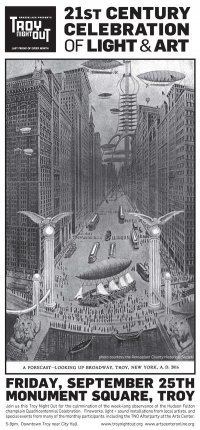 Albany Sonic Arts Collective and friends will be performing as part of "TROY NIGHT OUT! 21st Century Celebration of Light and Art" in the Black Box Theatre at The Arts Center of the Capital Region on Friday September 25 from 5 to 9pm.
Performers include
Jason Cosco, live video projections
G. Lucas Crane (Nonhorse and Woods), tape manipulation and electronics
Pete Edwards (Casper Electronics),  circuit bent and homemade electronic wizardy
Eric Hardiman (Rambutan, Century Plants), guitar improv and feedback loops
Ray Hare (Fossils From the Sun, Century Plants), guitar improv, vocals and feedback loops
Holland Hopson, modified electric banjo and electronics  from
Matt Weston,  improvised percussion and electronics
Also going on at the Arts Center will be a live video remix of local illustrators by lmnopf, live DJ's, circuit-bending demos by Casperland, a video game showcase from 1st Playable in the Digital Artist Space, works from NYFA MARK program artists and a colossal light and sound installation in Monument Square.