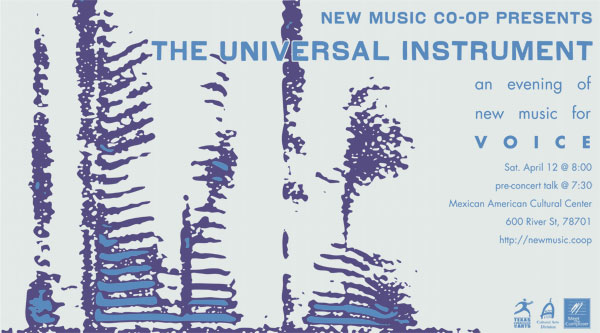 The Austin New Music Co-op is presenting a concert of new music for voice on Saturday, April 12 in Austin TX. The concert will feature music by Chris Cuellar, Brent Fariss, Holland Hopson, Keith Manlove, Josh Ronsen and Travis Weller performed by vocalists Ashley Gaar, Kathy Hatch, Deena Hyatt, Wendi Olinger, Anton Boyd, Brandon Young and Kevin Adickes.
The ensemble will be premiering my vocal quartet, Nine Tas (Download the score). I unfortunately won't be in attendance.
NMC is presenting a number of related events beginning with an open rehearsal tonight, a radio broadcast tomorrow and a pre-concert talk on the 12th. More information about the concert and all the extras.