Tag Archives:
Adirondacks
Spring is woohoo. Woohoo for flowers.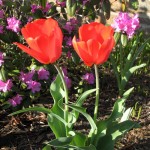 Woohoo for frogs.
[audio:http://hollandhopson.com/blog/wp-content/uploads/2008/04/spring_peepers.mp3]
spring peepers
Spring is for woohoo flowers frogs.
Here's a recording from a recent trip to the Adirondacks. Forest quiet just before dusk. Wind in the leaves. Some sudden squirrel or chipmunk activity. The occasional thump is the sound of a vine or branch knocking against a tree trunk.
[audio:070903_adirondack_eve.mp3]